Limited Edition
Mandrake pin CAUTION MANDRAKE Limited Edition
SKU:

PN.1001.BR.LE
€ 11,95 € 8,95 (including VAT)
Mandrake pin
Mandrake is a species of the plant genus Mandragora. Like the potato it is in the nightshade family. The Mandrake has magical healing powers, but the plant is also dangerous for humans. Especially the terrible screams of the plant during repotting are harmful. That's why there is a warning on the pot: Caution Mandrake.
Exclusive design
This pin comes on a card with the text Mandrake Pin Limited Edition "Repotted". Pin and card are both an exclusive design of Cat's Cauldron and are manufactured in the Netherlands. The pin is beautifully enameled and is of high quality.
Limited edition DON'T MISS OUT!
This unique Mandrake pin has a limited edition of 100 pieces. The cards are numbered by hand from 1 to 100. We guarantee that each number is only issued once. The numbers are issued in random order. It is not possible to order a specific number.
Shipping cost
Pins will be shipped in a letterbox package. Look for our shipping cost on the page Shipping.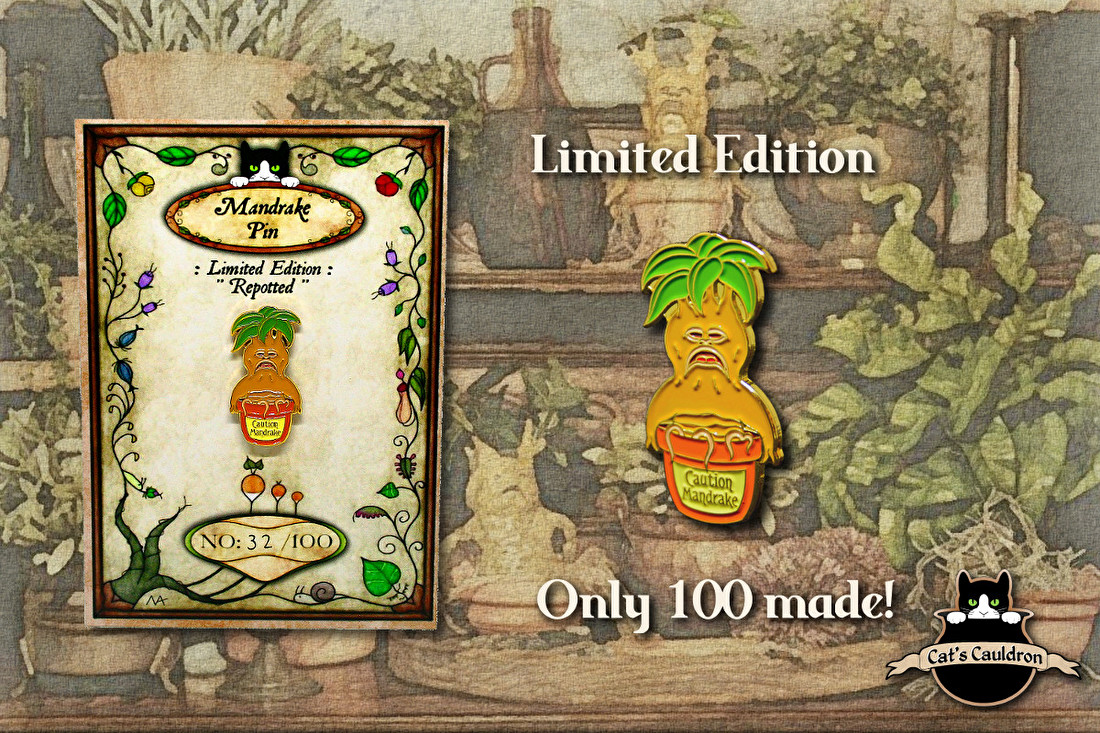 | Specification | Description |
| --- | --- |
| Pin Size (Height x Width) | 4,0 x 2,1 cm |
| Pin Weight | 8 grams |
| Material | Metal with soft enamel |
| Closure | Double butterfly clutch |
| Card Size (Height x Width) | 14,9 x 10,5 cm |
Customers also bought
Grindylow pin

Grindylow pinThe Grindylow is a creature from English Folklore that lives underwater.

Exclusive designThis pin is the second exclusive pin design from The Cat's Cauldron, made in The Netherlands. A unique pin with nice small…

€ 5,95

NEW

Floo Powder in glass jar

Floo Powder Floo Powder is a powder used by wizards and witches to transport themselves to a different location. There is a green flame depicted on the label that shows what happens when using the powder. It also depicts a warning…

€ 14,95

-13%

Hedwig Harry Potter Pin Badge Official

Hedwig Harry Potter Pin Badge Officially licensed Lovely metal pin badge of Hedwig the Owl.

Comes in a box with a window.

Officially licensed WB Wizarding World Harry Potter-product.

Shipping This item will be shipped in a…

€ 7,95 € 6,95