NEW
Boomslang Skin potion ingredient in bottle
SKU:

PT.0002.BS.00
Boomslang Skin
Boomslang Skin are the remains of shedded off skin from a Boomslang snake. Boomslang Skin is used in the wizarding world as an ingrediënt for potions, often used for transformations.
Certificate
This potion comes with a unique certificate with important information. The certificate has a gold-colored stamp on it.
Fantasy product
This is a fantasy product. Exclusively for decorative use and not suitable for consumption.
This is not real snake skin but a carefully made replica!
Shipping cost
Potions will be shipped in a parcel. Look for our current shipping cost on the page Shipping.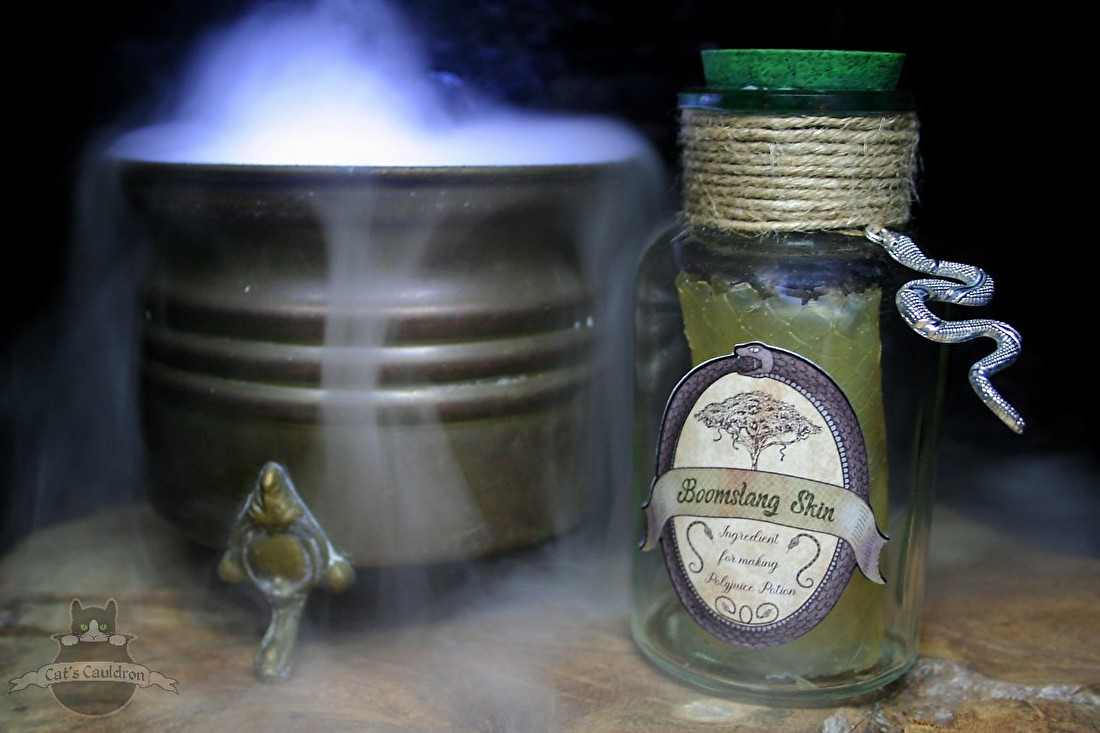 | Specification | Description |
| --- | --- |
| Bottle size (height x width) | 14 x 7 cm |
| Box size | 21 x 15 x 8 cm |
Customers also bought
NEW

Gillyweed potion bottle

Gillyweed Decorative glass bottle with Gillyweed. Gillyweed is an aquatic plant that temporarily gives the user gills and webbed hands and feet.

The plants, stones and liquid give this bottle a mysterious effect, comparable to an…

€ 18,95

New Stock!

Draught of Living Death potion bottle

Draught of Living Death Draught of Living Death is a very powerful potion that puts the drinker into a deadly sleep.

Ingredients - Potion Water
- Worm Wood
- Valerian Root
- Sloth Brain
- Root of Asphodel
- Sopophorous BeanThese…

€ 19,95

NEW

Floo Powder in glass jar

Floo Powder Floo Powder is a powder used by wizards and witches to transport themselves to a different location. There is a green flame depicted on the label that shows what happens when using the powder. It also depicts a warning…

€ 14,95