Lilac & Gooseberries Witcher sorceress soap 3 bars
SKU:

LS.5500.SP.3x
Lilac & Gooseberries
Lilac is a well known scent of spring flowers, while gooseberry has a light fresh sweet fruit scent, less strong but a nice counterpart. The combination of the two gives this soap a very pleasant scent.
Smell like a sorceress
This Lilac & Gooseberries soap is inspired by the Witcher series. Lilac & Gooseberries is the characteristic scent of the beautiful and powerful sorceress Yennefer of Vengerberg known from the Witcher stories and games. With this magical scent she is able to win over the witcher, Geralt of Rivia.
Soap
This black soap has been handmade and contains only natural ingredients. The soap has a natural rectangular shape and weighs approximately 80 grams. Nice to use while showering but also nice to use for decoration. The paper wrapping has been especially designed by us to make it a matching whole. This soap in an exclusive product of the Cat's Cauldron.
Feedback rating 5 stars
Buyers have rated this soap with 5 stars. Look here for the reviews on Etsy.
Shipping cost
Soap will be shipped in a letterbox package. Look for our current shipping cost on the page Shipping.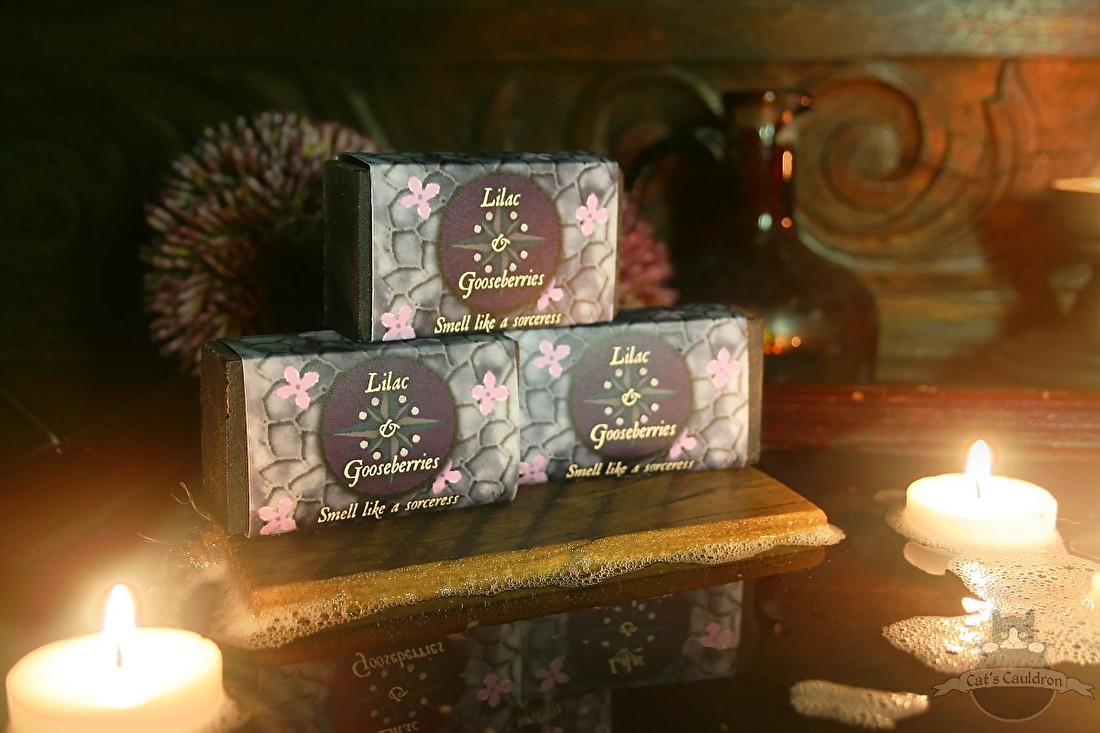 | Specification | Description |
| --- | --- |
| Weight | 80 grams |
| Size | 8 x 4,5 x 2,5 cm |
Customers also bought
Lilac & Gooseberries Witcher sorceress soap

Lilac & Gooseberries Lilac is a well known scent of spring flowers, while gooseberry has a light fresh sweet fruit scent, less strong but a nice counterpart. The combination of the two gives this soap a very pleasant scent.

Smell…

€ 7,95

Black cat sitting on a bridge pillowcase

Pillowcase Elegant designed pillowcase of a black cat sitting on bridge. The backside of the pillowcase is unprinted.Shipping cost Pillowcases will be shipped folded in a letterbox package. Four or more pillowcases will be shipped…

€ 8,95

-20%

Purple stone and pentagram witch necklace

Necklace Silver colored necklace with a nicely cut pendant made out of purple stone. There is a pentagram above the stone pendant which symbolises the five elements. Nice fantasy necklace for a fan of wizard and witchcraft.Card…

€ 9,95 € 7,95

-13%

Cat skull replica in glass bell jar

Cat skull in glass bell jarDetailed replica of a cat skull in a glass bell jar. The skull is in full scale and fits perfect in the bell jar. The base of the bell jar has been decorated with finely detailed metal feet.

Fantasy…

€ 39,95 € 34,95

Lilac & Gooseberries giftset Witcher soap with guest towels

Lilac & Gooseberries Lilac is a well known scent of spring flowers, while gooseberry has a light fresh sweet fruit scent, less strong but a nice counterpart. The combination of the two gives this soap a very pleasant scent.Smell…

€ 25,00